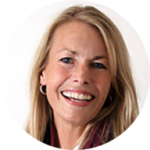 Paige Beyer coaches individuals, teams and organizations on Leadership, Career and Talent Management issues. Paige has played a key role in developing customized programs for government and corporate clients. She works with organizations both domestic and international. Her experience as a professional Coach combined with her background in Marketing, Management and Recruitment offers insight into the complicated dynamics of how to develop and engage individuals to make a greater contribution at work and to execute on mission critical initiatives. Her clients, most of whom are already successful professionals in management and leadership positions, reach new levels of success and satisfaction in their careers and in the workplace never thought possible before.
Clients who work with Paige experience improvements in defining goals and strategic plans, better communications, increased exposure, greater understanding of how to identify, develop and retain team members, and improve delegation and management skills. She helps her clients better execute on projects and/or initiatives by focusing and prioritizing more effectively. Clients are challenged to explore and ultimately, embrace what is required of them as managers and leaders to impact positive change in their work environments and in the bigger game of life. Clients gain clarity about their "vision" for success as well as their own unique leadership/management style. As clients become "more comfortable in their own skin", they are able to better articulate this message to others and take action.
Paige offers a safe place to brainstorm, explore new perspectives, clarify goals and develop strategic plans to turn their vision into reality! She holds her clients accountable so they realize the results they want. Bottom line, clients who partner with Paige as their coach achieve better results and become more effective leaders.
Coaching since 2001, Paige's broad professional experience of over twenty years brings a wealth of knowledge and encouragement. Paige is a graduate of North Carolina State University and holds a bachelors degree in Business Management. She is also an ICF and CTI Certified Professional Coach and Certified Myers-Briggs Administrator and Counselor.   Her training includes systems and relationship coaching. Additionally, Paige and her associates utilize 360 Degree Feedback and an array of other assessment tools to help clients become more self-aware, enhancing their development and growth. Paige is also experienced in developing custom talent assessments and leading projects to identify future hires and leaders.